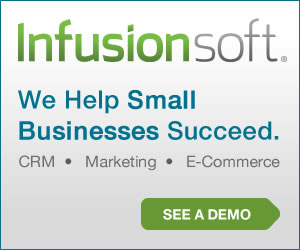 One of the things that I love to do is stay connected with my customers, vendors and contractors. It helps me keep the lines of communication open with them as I work on projects. In order to stay connected, I need to have a customer relationship management (CRM) tool in place that can handle all of my communication activities.
Why start using a CRM tool
Recently, I took a look at how I was handling the communication process with all of them and decided that I needed to make a few changes. After analyzing my processes, financial spenditures, and time management details, I realized that I was overwhelming myself. As a matter of fact, when I added up what I was spending for each of the separate service to accomplish what Infusionsoft can do, I realized that I was only saving .10 cents USD.
Why I chose Infusionsoft
That blew my mind because having things streamlined is a lot better than "getting a cheap or free deal". The company that I chose to use as my CRM is Infusionsoft and I chose this service because of the following reasons:
One-stop shop for all of my needs
Easy setup of products, services, etc.
Drag & drop environment for setting up processes
Cost is a very good value compared to all of the things that I receive
Startup coaching to help me streamline processes and get going quicker
There are so many more reasons why I feel that choosing Infusionsoft has been a great choice and over this series about CRM management research, I will be sharing them. 
Would love to know what you think about Infusionsoft or share about the CRM tool that you use below. Feel free to reshare this blog post.